So what is this Zello walkie talkie app that everyones talking about, it was developed by Alexey Gavrilov.
It was also formerly known as Loud talks.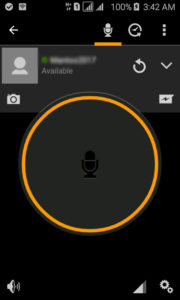 Zello can be used in both Android and Ios devices.
You simply download the app and sign into it after you've created an account.
This app very much like skype, you add your contacts and talk to them using the push to talk walkie talkie method.
It is very simple to use ,you push a button and talk , your voice is sent over to the other party through the internet.
Brief History
Zello after being created by Mr.Gavrilov has gained widespread popularity after it has proven to be a good communication app during cyclones and hurricanes.
Protesters have also found it to be very useful since it can work on a very weak internet connection
It was used by Turkish protesters during their fight for freedom of expression in 2013.
This awesome app was also used by thousands of search and rescue volunteers who took part in the search for Ivans Berladins and also used by volunteers who cleaned up after Cyclone Harvey
Being a useful app that it is, it has also become the best walkie talkie app after millions of people signed up prior to cyclone Irma's devastation
Its reputation as good tool during times of emergency and bad cellular connections has certainly picked up.
How does zello walkie talkie work    

Theres has been numerous rumours flying around that this walkie talkie app will work with virtually no connections whatsoever, lets find out if that's possible.
This app uses internet connection to pass data from one user's device to another.
It can work with the slowest 2G connection and even with Wifi, all it needs is cellular connection, if the network goes down, so will everything, including this app .
So can Zello work without, wifi, internet or cellular connections?
No, It is pretty much useless .
But the one good thing about this app is that during a disaster when infrastructures are damaged .
Zello will work provided that there is atleast a 2G internet connection.
Can Zello work on a PC
Zello has a version for PC, which when connected to the internet, can communicate with users on android or IOS devices.
Technologyplusinc is a participant in the Amazon Services LLC Associates Program, an affiliate advertising program designed to provide a means for sites to earn advertising fees by advertising and linking to Amazon.com.