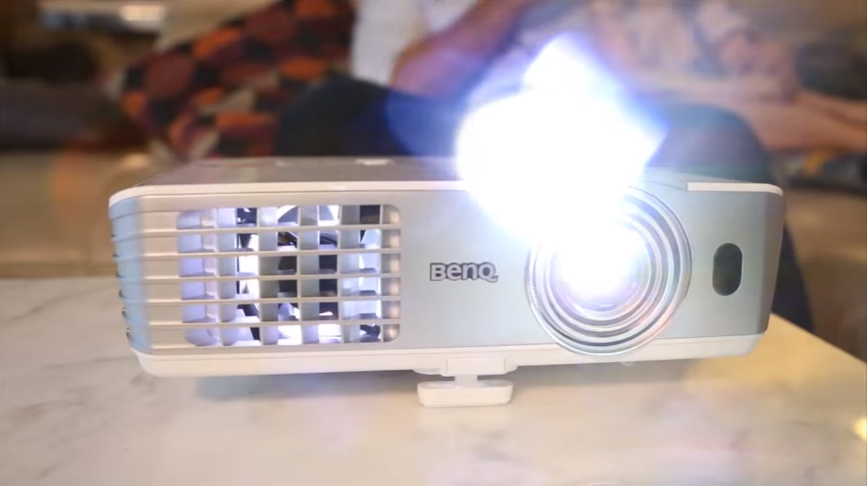 We've all had those projectors, that could work well in the dark or with minimal ambient light, they are awesome, but when you put them outdoors during daylight, you could hardly make out the pictures.
With hundreds of hours of research, I have put together a guide on the best projector that can be used for daylight viewing. Our tips on what to look for in a projector is at the end of this page, do check it out.
*Tip: The best projector for daylight viewing, will be the one with the highest lumens, 3000 plus lumens should be good enough.
 So what is the best projector for daylight viewing?
One of the best projector for daylight viewing out there is the ViewSonic PA503S
I picked this projector because of how good it performs in daylight and also because you wont have to dig deep into your pockets for this projector.
The ViewSonic PA503S is somewhat affordable for it's capability.
The ViewSonic PA503S 3600 Lumens projector is really bright, you can watch movies outside in full daylight with this projector.
Having a resolution of SVGA 800 x 600 (for 1280 x 800 resolutions, check out the BenQ WIreless projector on Amazon, which will also be reviewed next)
With an external speaker, this projector is good to have as an outdoor theatre.The ViewSonic PA503S has a  really low heat output for a bright projector.
Brightness:                3600Lumens
1080P
VGA(640 x 480) to FullHD (1920 x 1080)
Ratio:                         22,000:1
Throw distance:       1.19 to 13.11m
Pros
Really quiet fan
Bright enough for daylight viewing
Cons
Speaker volume is low
Not portable
What users thought about the ViewSonic PA503S
The main thing users had said about this projector is that they are please with how quiet this projector runs.
Secondly, users mentioned how it is bright enough when used in a well lit room.
However one cons about this projector users noticed is how low the speaker volumes are, so if you are going to use this projector, make sure you have a pair of speakers with it
Very bright and easy to set up. You could use the BenQ MW6612 WXGA for outdoor movies and presentations without losing image quality during the day when the sun is shining
This is a 4000 lumens projector so you wouldn't have to worry about ambient light drowning out the projected image. Resolutions wise, it is capable of 1280 x 800 resolutions.
The fan of the BenQ MW612 WXGA projector is really quiet, unless you are somewhere really quiet, you won't hear the fan.
Plenty connections to choose from and with a good pair of speakers, this projector  this projector I can personally say that is one of the best projector for daylight viewing.
4000 ansi Lumens
1.55-1.7 Throw
20,000:1 ratio
Image size
Pros
Really bright
4000 lumens for an affordable price.
Cons
What users thought about the BenQ MW612 projector
For the BenQ MW612 WXGA projector, first thing that users had said is how bright and crispy the images looked.
Users had also said that this projector worked well enough in a daylight setting. The only noticeable drawback however was that the users noticed how the sound that the BenQ MW612 WXGA projector gave, was not good enough for the price range, so if you have this projector in mind, do consider invest in a good pair of speakers to go with in.
Last drawback about the BenQ MW612 WXGA  projector users said was how this projector is abit larger for it's class.
Epson a name synonymous for quality IT products more specifically projectors, this is one of their popular series of products.
This also being one of their best portable for daytime viewing in this price category.
Really bright with a quiet motor.This projectors noise can only be heard when you get closer to it, or when it's bout to shut down and revs up to cool down the component before turning off.
Crystal clear and large images is outputted by the Epson EX3260 projector.
Cons
Good quality images
Quiet
Pros
Zoom function is very limited
Low volume speaker
What users thought about the Epson EX3260
Something that users of the Epson EX3260 found, is how the fan is not at all loud and how bright and excellent the pictures were. Users also mentioned how this projector is nice to have for daylight viewing, however, the Epson EX3260 does not come with audio output (and the audio is not that great) so what they did was, to buy a HDMI audio extractor with an external set of speakers to make up for that.
The Vankyo Leisure 510 is a handsomely black projector that performs well in daylight, has good color saturation and contrast for a projector this price.
The thing I like about the Vankyo 510 projector is the fact that it's really affordable for a projector with a performance like this one.
Video gaming looks terrific when used with this projector, it also has a surprisingly low-pitched fan sound but is a bit noticeable.
Overall the Vankyo 510 projector is on the the best projector for daytime use, another downside to this projector is the size of it's form factor, it's huge, but yeah! performance comes with size.
Pros
Affordable
Easy to set up
Cons
What users thought about the Vankyo Leisure 510 projector
The projector was liked by users overall, however it may not be the brightest when compared to the rest but it withstands daylight. Unlike the rest of the projectors, the Vankyo Leisure 510 was well liked for it had a good speaker.
Having considered all the factors that makes up a good projector for daylight viewing, we have found that all of the above mentioned projectors make good projectors for daylight use, they all have features which make them better than other .
But the ViewSonic PA503S has beaten all of them because of it's high brightness in terms of lumens, ease of set up which makes this projector a good one for outdoor use or places where there is plenty ambient light.
Buy the ViewSonic PA503S projector from Amazon
Things to look for in a projector for daylight viewing.
Lumens
Lumen is the measurement of the quantity of visible light emitted by a light source and in this case, it's being emitted by the projector. It is advisable to use the highest lumens projector for daylight viewing, projectors above 3000 lumens should do the job.
The brighter the better, so do consider investing in projectors the has more 3000 lumens. Off course not all projectors are the same, some may have more lumens but may have a poor speaker sound quality or maybe lacking in other things, try to find a good compromise between brightness and everything else, especially the price
Rule of thumb for projectors for daylight use is, use projectors above 3000 lumens or atleast somewhere near that number
Direction of the sun
We sometimes might not have the best projector specs humans can ever make, but what we can do is work with what we have.If the projector image given out by the projector is not the best in the world, we can however do other things so that our projector may cope with the bright sun.
Facing the projector screen away from the sun will ensure that they don't go head on to see who the brightest is, make sure to set up your projector screen so that the sun is behind the screen and also have the curtains closed could give the projected image some more brightness.
Image size
If you are struggling to get a decent quality image from your projections, consider reducing the size of your image so that it packs brightness in one small image.
Have you ever tried watching  a low resolutions image on a big screen? Not pleasing right? Projectors work the same
So decrease image size to get more brightness and color.
Technologyplusinc is a participant in the Amazon Services LLC Associates Program, an affiliate advertising program designed to provide a means for sites to earn advertising fees by advertising and linking to Amazon.com.