If you are looking for the best 2 way radio for construction works then you are at the right place, in this article we will review some of the best  two way radios that you can get to use at your work place so that you may communicate with ease and that your work will be more easier and stress.
Without further ado.
Here are the best;
The best 2 way radios for construction is from Samcom. Samcom the manufacturer of the FPCN10A two way radio, also makes intercom systems and this is one product that is not only a radio receiver and transmitter but also works like an intercom and can also be used with intercoms.
The SAMCOM FPCN10A transmits along the 400-469.995MHz which can be programmed by the user on which frequency you'd want so as to avoid interfering with other radio devices in the area.
The CTCSS/CDCSS codes can be programmed so that all devices receive the same transmission while disregarding other device transmission which are not part of these.
This two way radio can also be programmed to work with GMRS/FRS walkie talkie devices, so if there are existing radios or walkie talkies, the SAMCOM FPCN10A can be programmed to work with them, so they can be added to your existing walkie talkies and will also work with the other walkie talkies or two way radios.
With a 3000mAh battery, these two way radio should work for roughly 33 hours and 190 something hours when put on standby.
One of the best thing about this two way radio is that it can work with the wireless SAMCOM intercom which should give you more reach in terms of communicating with office workers, should be useful in the case of an emergency.


What users thought about the SAMCOM FPCN10A
The first thing that users had commented about the FPCN10A two-way radio is how awesome the battery lasted and how loud this two way radio sounds, so this two way radio suits loud environment like construction sites or places where theres alot of noise and somewhere that needs a two way radio that is capable of long battery life.
Some users however disliked how the antennae is kind of long, but in my opinion, the longer the better, plus it's removable, that's a plus for the Samcom FPCN10A
Check out the SAMCOM FPCN10A two way radio on Amazon
BaoFeng UV-5R at first glance looks "specsy" and tough and rather "complicated" in looks, the BaoFeng UV-5R operates on 136-174MHZ  and 400-480MHZ (dual band) which can be programmed by the users on which specific frequency on which you want to use.
It has 128 channels with 50 CTCSS and 104 CDSS which can also be programmed onto the device to further avoid collision or interference on the frequency that it operates on.
Price wise, the BaoFeng UV-5R is really affordable for it's capability, this two way radio is FM radio capable, so during non working hours or breaks, it can used for radio listening.
The programming of the BaoFeng UV-5R can be a little trick for a newbie to do, but when you get the hang of it, it gets easier which you can re-program should you need to.
If your construction team already has some walkie talkies, this two-way radio can be programmed to work on GMRS/FRS frequencies and it should be able to work with those walkie talkies.
Furthermore, the BaoFeng UV-5R also has aftermarket accessories which can be bought off the internet.
The BaoFeng are well liked by previous users of this two-way radio, there were a few drawbacks to this radio device however, the only drawback that stood out was how the BaoFeng UV-5R was a little tricky to program for newbies, for people who have done radio programming before using the CHIRP software will have no problem accomplishing this task.
Users had also commented on how battery life of the BaoFeng UV-5R seems to be really good and was money well spent for their security teams construction workers and also work place in general.
Check out the BaoFeng UV-5R on Amazon
The PoFung UV-82 is an inexpensive two way radio that fits perfectly in your palms and also feels good on your palms.
This two way radio as with most two way radios, operates on a Frequency Range of 136-174 & 400-520MHz which is available at the disposable of the user.
PoFung UV-82 can be manually programmed to work on the FRS, GMRS or the MURS frequency by the user (frequency can be entered manually) using a frequency sheet which can be downloaded off of the internet.
It can also run the normal 65.0MHz-108.0MHz FM radio which can provide entertainment to construction crews during breaks.
Although the PoFung might not be coined as the "best 2 way radios for construction", it is however fits the bill as the most affordable 2 way radio for construction so to speak.
What users thought about the PoFung UV-82
One thing that stood out from users opinion on this two way radio is how the PoFung UV-82 is really cheap in terms of price, if you lose one unit of these you could get two to three for the price of one unit of the highly priced devices.
Second best thing that stood out from the opinions of the users is how this two way radio feels good ergonomically speaking, that's a nice thing for a two way radio that is to be used for construction works.
Check out the PoFung UV-82 on Amazon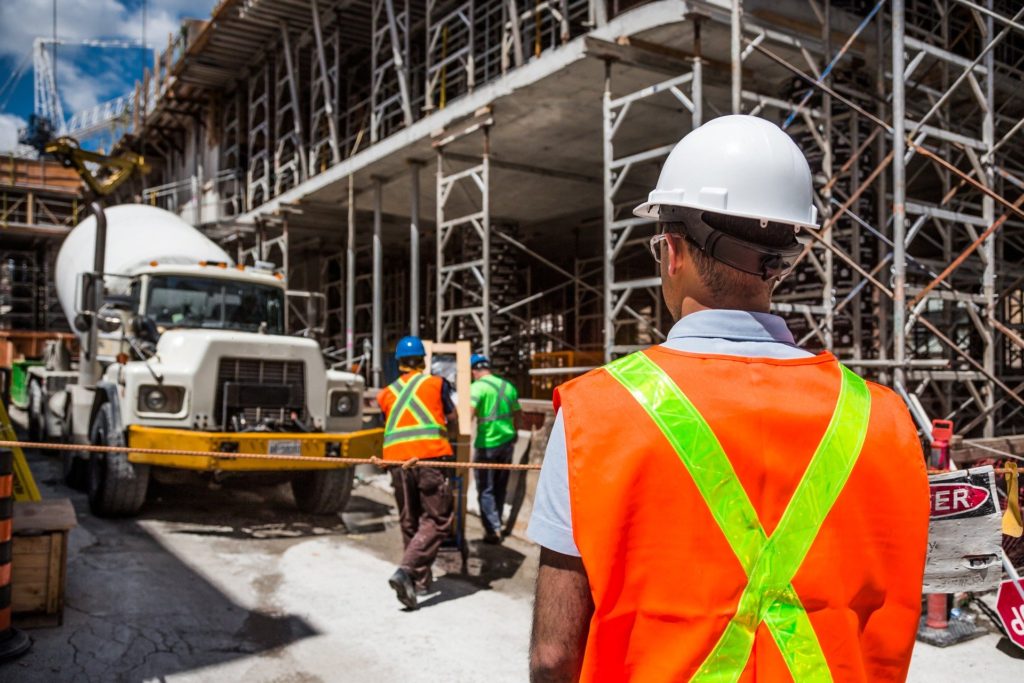 Why is good construction site communications is important?
Construction work, is a work that is prone to accidents and injuries if one is not careful, alert or if there are miscommunications. Construction workers will agree that communication is the key to the success of a construction project. There can be alot of misunderstanding that often results to mistakes, accidents and injuries just from these small misunderstandings.
Good and effective communication is crucial just like having the right tools and people is essential to a construction project.
For those reasons, it is best to have reliable communications devices which can be a life saver literally in some situations.
What better way to communicate than through a 2 way radio. With all that said, well now look at the best 2 way radios for construction. Read above for some of the best 2 way radios for construction money can buy.
What to look for in the best 2 way radios for construction sites.
Long battery life:
A long battery life is essential for two way radios for any kind of situation or use, 12 to 18 hours of battery life should cover one shift of work without having to recharge the batteries in between shifts. You could also have spare batteries recharged before a shift begins so that they may be used during a shift if in case batteries run out mid shift.
Rechargeable Battery Pack:
Rechargeable Lithium ion batteries are rechargeable battery packs encased together which are removable and replaceable, spare rechargeable battery pack should be put aside and recharged also the night before work starts so that they act as back up to the battery packs that are being used. Lithium Ion batteries are preferred as they pack more energy and are lighter.
Hands-Free/VoX:
Vox or voice operated exchanged is a new technology being implemented on high end two way radios that enables users to transmit without having to press the PPT button.
The two way radio will detect when you start speaking and will automatically start transmitting, this ensure that construction workers are on with their work without having to press the Push to Talk button whenever they want to speak, this also takes away the burden of having to press the button every time and also will lighten your load and free your palms and hands from the radio device while you concentrate on your tools.
Water/Dust resistant:
Construction sites as we all know, are some dirtiest places you could ever be in, getting a water and dust resistant two way radio is a must if you want your radios to last a long time. Construction is no clean job, that's is why, you will need devices that can fall and not break, get wet or covered with dust and still work fine.
The Ip ratings of the device is often advertised with it, IP ratings are codes which describes what it can withstand in terms of water and dust resistance. An example, IP55 (which some radios have) are protected from dust, however it is not dust tight and can also withstand water splashing from a nozzle that's 6.3mm from all directions.
Charging adapter:
Using a charging adapter is a more convenient way to charge your two way radio device, just plug in your device onto the stand and leave it for it to charge. This beats having a wire charger as it cannot unplug.
Belt Clip:
Working in heights is more easier (when using a handheld radio device) if the device is clipped onto your belt on your waist, combined with VOX hands-free, construction workers can use their radios totally hands-free, this is especially useful if you have a hand full of tools.
Removable antenna:
Having removable antenna helps when you are trying to store away your two way radio, as the antenna could be removed to save space.
Warranty:
Best of all, having a warranty will safeguard you against, faulty devices or any other problems that are beyond your control, you could also get parts replacement or total device replace when covered under warranty, this could save you money if you ever happen to become a victim of faulty devices or other incidents that are beyond your control.
Programmable:
Alot of two way radios on the market are programmable, they could be programmed to transmit and receive on a certain frequency, so you could avoid certain frequency or range of frequencies on purpose if it's saturated or if it's giving you problems.
This could also enable you to have the two way radios work with walkie talkies, they can further add to the existing walkie talkies while the two way radios gives you more range than walkie talkies.
Technologyplusinc is a participant in the Amazon Services LLC Associates Program, an affiliate advertising program designed to provide a means for sites to earn advertising fees by advertising and linking to Amazon.com.