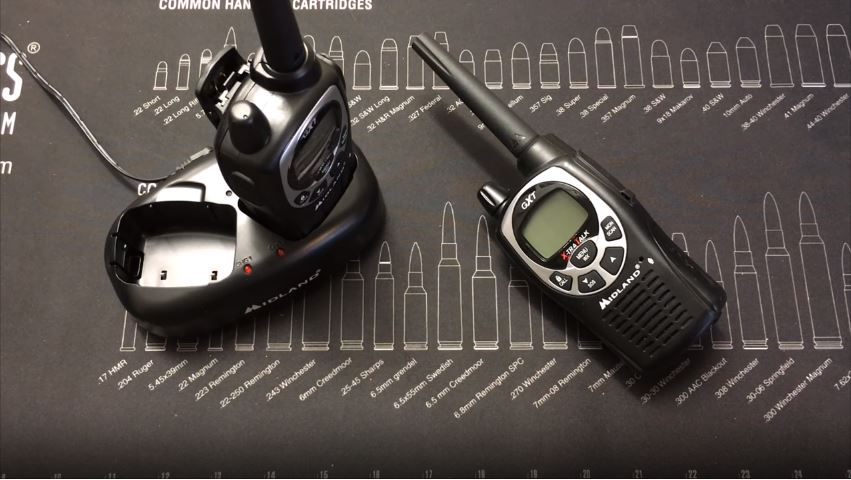 With Midland having over 50 years in the radio communications industry, they have developed and sold thousands of products and over time have improved the quality of their products. Combined with excellent customer care this is one company that you would want to trust with their products.
Look and feel of the product
The Midland – GXT1000VP4 looks tough and more military grade kind of walkie talkie.
It has many buttons which I think will overwhelm new users of this two-way radio, but with time, you are going to get used seeing all the buttons as this device is also really easy to use.
This walkie talkie is tough and light weight since it is made out of light and durable plastic.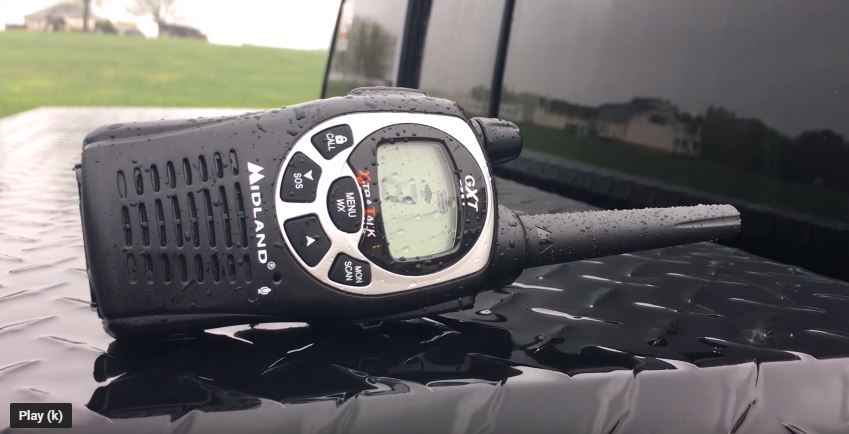 Charging
The Midland – GXT1000VP4 comes with a 120V dual desktop charger, AC adapter/DC adapter.
Size
The GXT1000VP4 is 2.5 inches wide and 5 inches long, they will fit in the typical pockets.
Range
Although 36 miles is advertised on the packaging, these devices will get you 2-3 miles in a line of sight environment with less dense environment.
In a dense environment like bushes, forests, rugged terrains, they will get you from 1 to 2 miles.
Battery
This walkie talkie comes with pre-built batteries that is chargeable using the charger, alternative is to use four "AA" batteries that can be bought off supermarkets
Channels
The Midland – GXT1000VP4 gives you 22 usable channels
Useful features
NOAA Weather Alert Radio with Weather Scan
This is one the useful feature that I have found on this device or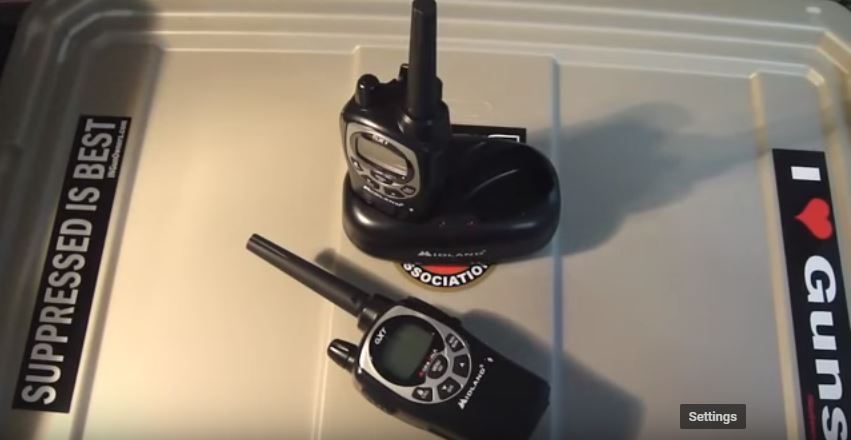 with a lot of the walkie talkies on the market.
The US government runs a radio station that issues out weather alerts on the frequencies 162.400, 162.425, 162.450, 162.475, 162.500, 162.525, and 162.550MHZ
You can tune into it with this walkie talkie and listen to the automated weather reports.
If a bad weather is approaching, your device will alert you on screen.
Waterproof
The Midland – GXT1000VP4 is waterproof, although not meant to be submerged for a long period of time, it will however survive a drop in the water.
This could be very useful if you are looking for a walkie talkie to use during hiking, skiing, to take on a cruise or for camping.
Whisper
This is one of the features that set it apart from all the other ones on the market, the whisper features, with this capability, you are able to whisper into the walkie talkie and not have to yell in order to be heard from the other side.
This could be very useful when used in a place where minimum noise is allowed, an example would be hunting, you can lay in the woods and whisper to your partner.
Whats users said about the Midland – GXT1000VP4
As with good customer review, comes customer opinion about the lack of the Midland – GXT1000VP4, a lot of customers liked this product however, some customers thought that more improvement could be done by adding a USB port for charging in cars with a regular USB charger, now that's an improvement for another model, with this walkie talkie, we are going to have to stick to base charging.
One other thing is that some customers found that the rechargeable batteries that came with it, does not hold charge.
The Midland – GXT1000VP4 being of the best seller walkie talkies on Amazon, a lot of customers had found this product to have a loud, crispy and clear speaker, they had used it in a loud environment and found that their walkie talkie competed very well in the environment.
Some customers found that this walkie talkie got them a range of 1 – 2 miles in the neighborhood and had used them to keep in contact with their children while they went out biking or played at their friends' house.
Some whom had bought the Midland – GXT1000VP4 liked the earpiece very well and thought that the earpiece that came with it was a bummer and had used the regular Samsung earpieces.
A lot of customers used this walkie talkie while out cruising in a cruise ship and liked as this was in their opinion the best walkie talkie for cruise ship use.
Customers found it very easy to use, although it looks complicated with all the buttons that it has.
Over all most were satisfied with their purchase of the Midland – GXT1000VP4 with a few customers being sipped defective product.
Technologyplusinc is a participant in the Amazon Services LLC Associates Program, an affiliate advertising program designed to provide a means for sites to earn advertising fees by advertising and linking to Amazon.com.